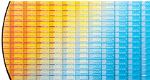 World leading chip maker Intel Corporation has announced its latest platform for communications infrastructure. Previously code named 'Crystal Forest', Intel's latest addition will offer superior communications workload consolidation via a single architecture for greater cost efficiency.
Intel's platform will also help service providers and telecom equipment manufacturers (TEMs) encrypt and process data across the network more efficiently. The platform will particularly benefit TEMs that are developing low-end products (such as wireless access and branch routers), as well as high-end equipment (for example LTE core network elements and enterprise security appliances).
The platform is flexible, allowing network element designers to combine components within the product in a multitude of ways to achieve the functionality and performance they require for each deployment.
A variety of Crystal Forest platform components will be made available to provide TEMs and service providers with the scalability to design low-end routers right up to high-end comms products that can deliver up to 160 million packets per second Layer 3 packet forwarding performance.
Systems engineers can also use the platform to develop a cost-competitive family of products based on a common codebase. This ability significantly reduces software development cost, while the opportunity to use COTS boards greatly minimizes hardware development cost.
The new platform is based on the Intel® Sandy Bridge microarchitecture code and includes the Intel® QuickAssist Technology. Intel® QuickAssist is a set of software and hardware modules that accelerate bulk encryption, data compression and other workloads. The acceleration features are accessed via a unified set of industry-standard APIs, which provides consistent conventions and semantics across multiple accelerator implementations and future-proofs software investments.
By integrating the QuickAssist Technology the new platform can deliver up to 80 Gbps crypto acceleration, which would normally require the deployment of multiple architectures to achieve this rate.
Visit www.intel.co.uk/crystalforest for more information about Intel's new platform for communications infrastructure.