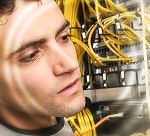 LONDON, UK – (06-11-12) – The Bring Your Own Device (BYOD) revolution is increasing demands on network engineers and networks. The Visual line of products from Fluke Networks are optimised to deliver the insights and control which network engineers need to enable their networks to deliver the promise of BYOD in a flexible, secure, and robust way.
Business service management (BSM) best practices are necessary for an organisation to monitor, measure, report, and manage IT services so that they are geared toward specific business objectives. Network engineers play a key role in ensuring network performance is optimised, and that key applications are always available. The trend towards BYOD represents a huge challenge for network engineers and for the network.
BYOD places extra demands on the network. The behaviour of users is often unpredictable and can, unwittingly, cause bottlenecks or delays. It's vital in an optimised BSM environment that complete visibility is achieved so that each and every device that connects to the network can be seen, traced, and evaluated in terms of what it is doing, the demands it is making on the network (for instance streaming video), and its security implications.
The ability to test and monitor the network in real-time is vital if BYOD is to deliver benefits in terms of user flexibility and productivity, and to ensure security is maintained. Visual Performance Manager has been designed so that it can easily integrate into BSM environments as a "best-in-class" Network Performance Management solution. It achieves that objective in a highly detailed and granular way, enabling network engineers to precisely track devices and IP addresses from a single, central, visual source.
The whitepaper by Fluke Networks, Network Applications Performance Alignment to IT Best Practices outlines how Bring Your Own Device can work successfully. To view the white paper, click here.
To learn more about BYOD and Network Performance Management, as well as Visual Performance Manager from Fluke Networks, visit http://www.networkchallenges.com/.