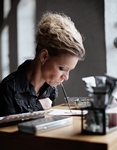 Ann Lund is a member of the Mund-og Fodmalende Kunstneres (MFK) the Danish arm of the Association of Mouth and Foots painting Artists (AMFPA).  Ann has had a busy year exhibiting her paintings, talking to the public about her inspiration and the organisation that helps her and her fellow members all over the world to achieve independence through their art.
In February, Ann kicked off the year by exhibiting at The Art of the Time (Tidens Kunst) exhibition, held at the conference centre in AARS. There were over a hundred different artists attending and Ann had her own booth where she was able to sell some of her paintings as well as chat to visitors, something she loves doing.  She then exhibited some of her acrylic and water colour paintings at Copenhagen Art Fair 2012.  As a result she has received many invitations to attend other exhibitions, including a stint at the Museum of Art in late October.
Ann Lund said:  "I love being out and about engaging with the public, it gives me the opportunity to make new contacts and to spread the word about our international organisation the AMFPA."
Ann's favourite subjects are angels and she has cleverly composed her paintings using her children, her niece and nephew as models.  She has painted portraits of her daughter, Stella, aged four and her bonus daughter, Viola, aged 11. She has also painted her niece, Thea, aged 14 and her nephew, Laust, aged 12.
Ann commented:  "Angels are where I get my inspiration from.  I believe in acting like an angel towards people who I come in contact with.  Giving them a smile or saying something nice or just listening to them can mean a lot and I get so much warmth in return."
This summer, Ann was commissioned to produce a painting for the charity, Article 4, an organisation against human trafficking. The image of angel wings shaped like a heart with the words 'Be An Angel' was printed on T- Shirts to help raise money and awareness of the cause.
Ann has been severely paralyzed since birth as a result of suffering from cerebral palsy, but she has not allowed it to stop her from pursuing her interests and enjoying life to the full. Ann loves socialising with her family and friends and enjoys travelling.   When she was a student, Ann went back packing with her friends in Australia; she travelled for two and a half months starting at Sidney then onto to Ayres Rock, and then Adelaide. She then went for six weeks to New Zealand before returning home via the US.
Ann said: "It was a true adventure and while my friends assisted me along the way, I found that the Australians were so kind and friendly that it made my trip memorable and a wonderful experience."
The Association of Mouth and Foot Painting Artists is a wholly owned, international self-help organisation of seriously disabled artists who take pride in earning their own living by painting with a paint brush held in their mouth or between their toes. A panel of senior AMFPA artists select from the collection of painted images created by Danish artists and their fellow artists from around the world. These chosen images are then reproduced and sold to the general public as cards and calendars, benefitting the AMFPA's more than 800 artists in over 75 countries worldwide.
Mund-og Fodmalende Kunstnere (www.mfk.dk)
Press Contact:
Randi Viereck
Email: mail@mfk.dk
Phone: +45 46354975
Mobile: +45 4095 4975