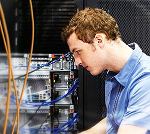 LONDON, UK (23-10-2012) – Virtualisation has had a huge effect on IT topologies in all kinds of organisations. The benefits are clear: increased productivity and efficiencies in terms of deployment of applications and services, reduced costs and complexity, plus the ability to add capacity in a flexible way. Virtualisation is a game-changer, but it also represents a challenge to the network and to network engineers.
Network engineers have to ensure that virtualisation, across the network, as well as in data centre consolidation projects, does not mask complexity. Virtualisation can hide complex layers of applications and systems. When a fault arises over a virtualised network it can be hard to find. Network engineers need the tools to find faults and accurately trace them to their cause.
Visual Performance Manager from Fluke Networks delivers the ability to achieve a detailed view of any virtualised environment. It's a highly granular insight that breaks down each element of the virtualised environment into a colour-coded visual representation that enables network engineers to track flows of information, the performance of all individual applications and systems, as well as the overall functioning of the network itself.
Network engineers can use Virtual Performance Manager from Fluke Networks to do far more than merely cope with virtualisation across the network environment, but, more importantly, to anticipate problems before they occur, to establish 'normal' flows of data, and to finely tune the network so that it delivers benefits to the organisation and represents true value in terms of return on investment.
Fluke Networks has produced a whitepaper, Managing Virtualisation with Data Centre Consolidation, which highlights the game-changing role that virtualisation is having, not just within the growing trend for data centre consolidation but across the IT estate, and emphasises the need for cross domain visibility and co-operation between all IT departments.
Find out how you can manage virtualisation across your network successfully and deliver a range of projects by downloading Managing Virtualisation with Data Centre Consolidation for free here.
Visit http://www.networkchallenges.com/ for a broader view of the challenges faced by network engineers and testing and monitoring solutions delivered by the Visual line of products from Fluke Networks.