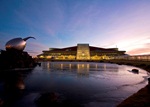 Airport transfer services are being offered by the popular Iceland tour provider Reykjavik Excursions, for those in need of transportation to and from Keflavik International Airport and Reykjavik.
As part of its service, the Flybus departs 35-40 minutes after each flight arrival, and offers extensive departures from BSI, the main bus terminal in Reykjavik.
In addition, Reykjavik Excursions offers Blue Lagoon tours with the Flybus service. The Blue Lagoon is a geothermal spa located in a lava field on the Reykjanes Peninsula. This natural wonder is one of the country's most visited attractions and is a must see.
The geothermal seawater that floods the lava formation is piped directly from its original source to the Blue Lagoon. Guests then enjoy the relaxing 40 °C temperatures and the beneficial active ingredients: minerals, silica and algae and their positive effects on the skin.
Reykjavik Excursions also boasts a free wireless Internet access on all of its buses, including the Flybus airport transfer shuttle. This free Internet connection allows passengers to upload photos online as soon as they arrive in Iceland, sharing their unique experience with friends and family.
To find out more regarding Airport transfer services to Keflavik from Reykjavik with Reykjavik Excursions, visit www.flybus.is.