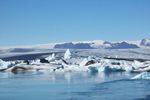 As part of Bustravel's summer services, the Iceland tour provider will be offering glacier tours to the breathtaking Vatnajokull glacier and the Jokulsarlon glacial lagoon.
Bustravel's popular Glacier Lagoon Tour is perfect for visitors looking to explore Europe's largest glacier Vatnajokull, and the incredible sights of the Jokulsarlon glacial lagoon. The tour provides a day full of glaciers, icebergs, waterfalls, black sand beaches.
The Bustravel tour takes travellers alongside other giant glaciers such as Eyjafjallajokull and Myrdalsjokull and then on to Vik, a small village home to black sand beaches on the south coast of Iceland. From Vik, the coach travels through lava fields to the Oraefajokull glacier.
Following this, the tour arrives at Vatnajokull and Jokulsarlon in the south east of Iceland. In addition, the tour stops off at Skogafoss and Seljalandsfoss, two of Iceland's most amazing waterfalls.
Departure for the Glacier Lagoon Tour is at 08:00 on Tuesdays, Thursdays, and Saturdays.
With over 50 years of experience, Bustravel offers high quality bus trips across Iceland as well as professional guided coach tours and airport transfers. The company has always believed in providing great services at affordable prices and still continues to do so to this day.
To find out more regarding the Glacier Lagoon Tour, and to make bookings with Bustravel, visit www.bustravel.is or call +354 511 2600. Furthermore, for daily updates, follow Bustravel on Facebook.