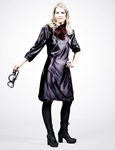 Keflavik International Airport in Iceland is expecting an increase in passenger traffic throughout 2012. According to the Business and Route Development Manager Gudny Johannsdottir, passenger numbers at KEF have been on the increase following the wake of the economical crash in Iceland. Johannsdottir believes that the reasoning for this increase is due to developments in Iceland, increased capacity of flights, cultural events, and the Inspired by Iceland tourism campaign.
In 2011, a total of 2,112,017 passengers passed through the Leifur Eiríksson Air Terminal, of which nearly 1.7 million were visiting the country for either business or pleasure – an increase of 17.9 percent compared to those visiting in 2010. Additionally, the number of transit passengers with connecting flights via KEF increased by around 25 percent – from 330 thousand in 2012 to 412 thousand in 2011.
The Icelandic airport administration, Isavia, predicts a 7.5 percent increase of passenger traffic for 2012. To back this up, Icelandair has announced its most extensive flight schedule in its history for 2012. Furthermore, EasyJet, WOW Air, Primera Air, and Norwegian are all set to make their debut at KEF this year.
Johannsdottir has also mentioned that passenger traffic development for the first two months of 2012 has increased by 9 percent, compared to the first two months of 2011. These figures are much higher than were estimated in the passenger forecast compiled at the end of 2011.
Interest in visiting Iceland has grown significantly over the past few years with more and more tourists choosing Iceland as a holiday destination. Most visitors arriving at Keflavik International Airport have come from Central and Southern Europe, and Scandinavia; however, the amount of passengers from North America increased by 47.8 percent between 2010 and 2011.
To find out more about Keflavik International Airport, visit http://www.kefairport.is/English.