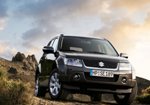 Iceland Car Rental, a leading car rental company in Iceland, is offering discount car hire with a range of offers on its fleet of high-performance vehicles depending on rental duration.
Iceland Car Rental customers looking to rent a vehicle for over seven days receive a 10 percent discount, over fourteen days a 15 percent discount, and a 20 percent discount for anyone wishing to rent for three weeks or more.
The company's fleet of vehicles includes top models such as Jeep, Suzuki, and Ford; all available with automatic transmission and considerable engine power, which is needed in the remote areas of Iceland. These safe vehicles are easy to drive and can come fully equipped with satellite navigation, mobile phones, and child seats on request.
Furthermore, the car rental company offers Smart cars for eco-friendly drivers. Smart cars have low consumption and CO2 emissions and even enjoy free parking in Reykjavík.
The company can also deliver the car to you at Keflavík International Airport, any hotel in Reykjavík, any address in the Greater Reykjavík area, or BSÍ – the main bus terminal in downtown Reykjavík.
Visit www.icelandcarrental.is to learn more about its discount hire prices and vehicles on offer.