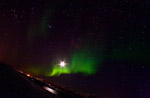 Despite the Northern Lights season in Iceland slowly coming to an end for this side of the year, guests at Grimsborgir Guest Houses in southwest Iceland have reported impressive sightings of the Aurora Borealis.
The guesthouse in Iceland has been labelled as an ideal location to spot the lights due to its remote position away from the city lights. Furthermore, despite there being no real guarantee for the Northern Lights appearing, possibly due to excessive cloud cover, Grimsborgir is, regardless, a great place to relax in the beautiful surroundings of Iceland.
Grimsborgir Guest Houses offers 6 luxury apartments situated right next to the River Sog, the largest freshwater river in Iceland. The apartments vary in size, accommodating from 4 to 10 people. The largest is 200 square metres with 4 bedrooms, a large kitchen and dining room, fireplace, lounge area with a TV, and large bathroom with both a shower and bathtub.
Each apartment includes a kitchen, dining room, and living area, as well as an outdoor hot tub overlooking the beautiful surroundings. There is also a first class restaurant on site, serving gourmet food made with fresh, local produce.
Moreover, the guesthouse in Iceland is situated near the Golden Circle tour route, where guests can find the incredible Gullfoss waterfall, the impressive geothermal area of Geysir, and Kerid, a water filled volcano crater.
For further information about Grímsborgir Guest Houses in Iceland, visit http://grimsborgir.com.
Image: flickr.com/olafur