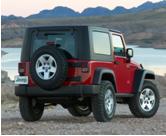 ASKJA car rental, a leading car hire company in Iceland, is offering Jeep 4x4s so its customers can explore the country's astonishing landscape with freedom and flexibility.
When renting a four-wheel drive, the Iceland's interior is free for exploration and even the toughest terrain won't stop you from seeing some of the country's hidden gems.
ASKJA car rental offers a wide range of high-performance 4×4 Jeep rentals fit to explore Iceland's breathtaking volcanic landscape.
The company's fleet of vehicles consists of top makes such as Nissan, Suzuki, Hyundai, Jeep, Ford, and Dodge. All are available with automatic transmission and considerable engine power, which is needed when travelling around Iceland.
Furthermore, all of the four-wheel drive vehicles on offer can be equipped with a Garmin Navigation System to help you navigate around the country and seek out those hidden gems.
Moreover, the company offers a pickup and return service for customers arriving at Keflavik International Airport, at an additional cost. However, for those staying in the greater Reykjavik area, a delivery service is available free of charge.
Additional information about ASKJA car rental and its range of vehicles can be found at www.askjacarrental.is.