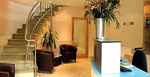 The Bath dentist practice, Bath Spa Dentistry offers orthodontics and dental implants for patients in the Somerset area. In addition, the dentist in Bath also offers teeth whitening, gum and tooth reshaping, and veneers.
Bath Spa Dentistry is well-known for its relaxed atmosphere; the practice ensures to do its best to put nervous patients at ease. For very anxious patients, the Bath dentist practice can provide a number of solutions to their fears, including sedation.
The dental practice in Bath has changed the traditional perception of visiting the dentist by providing each patient with their own listening and viewing choices, such as the latest DVDs and CDs.
The practice prides itself on offering high-quality dental care and services such as oral health examinations, tooth colouring fillings, dental crowns, dental bridges, and reconstructive treatment.
Additionally, Bath Spa Dentistry offers specialist children's dentistry procedures including restorative care, prevention therapy, as well as anxiety and trauma care.
To find out more about the dentist in Bath, visit http://www.jameshull.co.uk.
Additionally, for direct enquiries, see contact details below:
19a James Street West
Bath
BA1 2BT
Tel: 0161 820 6294
Opening hours:
Monday 0900-1700
Tuesday 0900-1800
Wednesday 0800-1700
Thursday 0900-1700
Friday 0830-1400