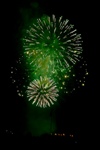 With over 200,000 visitors worldwide, the New Year's Eve live webcam feed overlooking Reykjavik's skyline was a great success.
Set up by Icelandic telecommunications company Mila, the webcam feed captured the attention of those wishing to experience New Year's Eve in Reykjavik, watching night turn to day as the fireworks light up the city's skyline.
Iceland's capital sees the arrival of thousands of visitors wanting to witness the spectacular New Year's Eve firework display. Visitors describe the event as something everybody should experience at least once. Thanks to Mila, viewers were able to experience the exploding rockets and dancing lights as it happened from the comfort of their own homes.
In addition to the New Year's Eve 2011 webcam feed, Mila also maintains many other webcams situated around Iceland, all of which can be viewed live 24/7 via its website.
Mila's webcams are located at the Blue Lagoon, Gullfoss, Jokulsarlon, Geysir, Katla, Hekla, Eyjafjallajokull, Akureyri, and Austurvollur in downtown Reykjavik.
Visit http://live.mila.is/english/ to check out the other webcam feeds and see Iceland live.
Photo: Oli Kristinn – http://flickr.com/olafur.