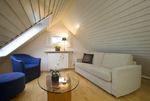 Leading travel recommendations website, Expedia has given high praise to the hotel in Reykjavik, Hotel Odinsve for its customer services – earning rave reviews and a rating of 4.7 out of a possible 5.
The hotel was commended for its dedicated customer services as well as its helpful staff, clean and spacious rooms and ideal location in central downtown Reykjavik.
One guest mentioned, "I highly recommend this hotel for the location, the helpful and courteous staff, the comfort of the beds, and the excellent breakfast… the neighbourhood where Odinsve is located is pleasant and convenient for exploring Reykjavík."
Hotel Odinsve holds a range of amenities for its guests, including a restaurant, a coffee shop, a café, and a bar lounge, all located on-site – it also boasts free wireless Internet for its customers.
In addition, all of its rooms have comfortable beds with high quality duvets and pillows from Kronborg of Denmark, and wooden floors. Each room includes a shower, minibar, complimentary coffee and tea, satellite TV, radio, telephone, and hair dryer.
The hotel is located just a few minutes walk away from Reykjavik's main shopping street, Laugavegur, where over 100 bars, restaurants and cafes are situated, alongside numerous boutiques and retailers.
For further information regarding the hotel in Reykjavik, visit www.hotelodinsve.is.