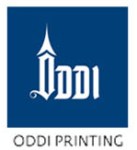 Oddi Printing, the book printing service, recently manufactured the new travel book Bon Voyage by travel experts, Jetsetter. The Jetsetters gift package features an evocative picture book with moments drawn from 24 of the best journeys planned over the past year by Jetsetter travel experts.
The Jetsetter book is paired with a personal consultation with one of Jetsetter's Personal Travel Planners, a team of the world's leading travel writers, and also a travel journal. The 12×12 picture book celebrates 24 trips planned by Jetsetter's Personal Travel Planners through words and images from well-known art photographers such as Mark Borthwick, Robert Polidori, Elliot Erwitt and others.
The Iceland/U.S. based printing company constantly receives numerous requests from publishers, asking that their publications be printed and bound at Oddi's printing plant in Reykjavik.
Being a large printing company in a small Icelandic market has made Oddi's production services very flexible and reliable. In recent years, this has become much more of an advantage with the demand for shorter production lead-time increasing.
More details regarding Oddi and its printing services can be found at http://www.oddi.com.