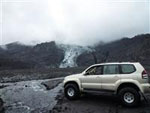 Car hire company in Iceland, Glacier Car Rental has reduced its winter travel prices by up to 40 percent compared to its summer prices in order to benefit travellers looking for quality car rental in Iceland for cheap.
Glacier Car Rental offers eleven different car models for 2011, with most cars produced in 2010. These cars range from city drive saloons to four-wheel drive cars able to withstand Iceland's toughest terrain. All of the vehicles are easy to drive and come fully equipped with a Global Positioning System on request.
Vehicles at Glacier Car Rental can be delivered directly to hotel accommodation in Reykjavik's surrounding area, as well as collected at Keflavik International Airport or the Glacier Car Rental offices in Hafnarfjordur.
First founded in 2009, Glacier Car Rental is owned by two brothers and staffed with family members. Since its inception, Glacier Car Rental has grown in popularity due to its proficiency in providing quality cars and an unbeatable service to those travelling in Iceland.
For further information regarding price reductions at Glacier Car Rental, visit http://www.glaciercarrental.is/.