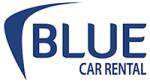 Blue Car Rental in Iceland has been busy preparing its fleet of vehicles for winter travel in order for its customers to have a safe and enjoyable holiday.
During the winter months, Icelandic roads can be tricky to navigate; however, with good tyres and well equipped cars like Blue Car Rental offers, there is nothing stopping visitors explore Iceland at it's harshest yet most beautiful time of the year.
In addition, the family owned car rental company has recently doubled its fleet of 4×4 cars. The company now offers customers three different 4×4 jeep options: Suzuki Jimny (manual transmission), Hyundai Tucson (automatic transmission), and Toyota Land Cruiser (automatic transmission). The car selection customers can choose from also includes economy-sized vehicles, station wagons, and 7-seater mini vans.
Furthermore, pick-up locations are flexible; customers can choose to get their rental car delivered on arrival, at their hotel, at the Blue Lagoon, or at any other place of convenience. The company offers pick-up and drop off at any time during the whole day, 24/7.
Blue Car Rental was founded in 2010 and is located in Keflavik, Iceland. The company is a family business and offers service in that manner; customers experience is a top priority.
Further information about Blue Car Rental in Iceland can be found at www.bluecarrental.is.