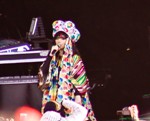 Bjork's new studio album, Biophilia, has been premiered on all Icelandair flights to Iceland, U.S., UK, and Scandinavia, as part of the airline's in-flight entertainment system.
Bjork's latest full-length record, due to be released on Monday 10th October 2011, became available onboard all Icelandair flights on Saturday 1st October.
The Director of Marketing & Business Development at Icelandair, Gudmundur Oskarsson, said, "It is a real honour for us at Icelandair to be able to offer Bjork's Biophilia album as part of our in-flight entertainment. Bjork is one of the foremost artists in the world right now, and many people have been waiting in anticipation to listen to this album."
The Icelandic singer will be performing her Biophilia live show twice at this year's Iceland Airwaves music festival, alongside another seven intimate shows at the newly opened concert hall in the capital region, Reykjavik.
For these special shows, Bjork will be performing new songs from the forthcoming Biophilia studio album as well as music from her back catalogue with a group of unique musical collaborators and a choir of 24 girls.
The show will feature a range of specially conceived and crafted instruments, among them a bespoke digitally-controlled pipe organ; a 30 foot pendulum that harnesses the earth's gravitational pull to create musical patterns.
Further information about flights to Iceland and Icelandair's in-flight entertainment can be found at www.icelandair.co.uk.
Photo: Óli Kristinn – http://flickr.com/olafur