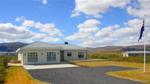 Grimsborgir Guest Houses in Southwest Iceland, just a 45-minute drive from the capital, Reykjavik, and a 25-minute drive from Thingvellir National Park, opened shortly after the closure of Hotel Valholl in 2009.
Grimsborgir Guest Houses, opened by locals Olafur Laufdal and Kristin Ketilsdottir, offers 6 luxury apartments situated right next to the River Sog, the largest freshwater river in Iceland.
The apartments vary in size, accommodating from 4 to 10 people. The largest is 200 square metres with 4 bedrooms, a large kitchen and dining room, fireplace, lounge area with a TV, and large bathroom with both a shower and bathtub.
Each apartment includes a kitchen, dining room, and living area, as well as an outdoor hot tub overlooking the beautiful surroundings. There is also a first class restaurant on site, serving gourmet food made with fresh, local produce.
Olafur Laufdal, Manager and Owner of Grimsborgir Guest Houses, explained, "We try our best to provide our visitors with top-notch service, and we'll happily help in any way we can with information about the area, transportation, guided tours, fishing and whatever else you might need to make your stay in Iceland as enjoyable as possible."
Grimsborgir is ideally located just a 25 minute drive from the historic site of Thingvellir and Thingvallavatn – one of the most frequently visited tourist sites in Iceland. It is also situated on the Golden Circle tour route, where you find the beautiful waterfall of Gullfoss, the impressive geothermal area of Geysir, and Kerid, a water filled volcano crater.
For further information about Grimsborgir Guest Houses in Iceland, and the surrounding area, visit http://grimsborgir.com.