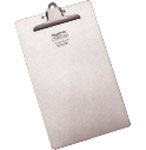 Teknomek, Europe's leading manufacturer of stainless steel equipment and furniture, is now offering stainless steel clipboards that are designed for use in locations where maintaining high levels of hygiene is essential.
The stainless steel clipboards are available as portrait or landscape A4 (with or without back clips) and portrait or landscape A3 (with or without back clips). A special A4 vet version with a kennel hanging clip and the option of a drug dispensing tray is also available. For mobile storage, an A4 version with an aluminium box and stainless steel hinged lid is also profiled.
Other stainless steel products for clean rooms include clipboard hanging racks, disposable metal detectable pens, wall mountable recipe card holders available in both landscape and portrait fixtures, rulers, ring binders, and other metal detectable accessories such as calculators, highlighter pens and board markers, and stopwatches.
In addition to the clean room products, Teknomek's clean room design service helps customers make the best use of available space at minimal costs. With the company's room design experience and dedicated 3D design department, the design team work with customers from the initial design concept through to the manufacturing process.
The stainless steel manufacturer also offers a complete 3D rendering of the final design so the customer can actually see what the finished result will look like. This approach removes the possibility of project delays and last minute costs due to modifications to get the units to fit the space.
To request a full product catalogue and to learn more about Teknomek's clean room equipment range, visit www.teknomek.co.uk or see contact details below:
Tel: +44 (0)1603 788833
Email: mail@teknomek.co.uk