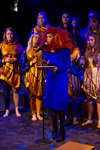 Two new dates have been added to the Bjork Biophilia live show roster at the Harpa concert hall in Reykjavik, Iceland, due to its huge demand. Bjork will now also be performing on 31st October and 3rd November after her previous six dates sold out less than 48 hours after they were announced.
Also, despite the first six events being sold out, Iceland's leading airline Icelandair has specially allocated seating during all eight of these events reserved for its customers. Icelandair customers booking any package deal have the opportunity to add a ticket to see Bjork live as part of its add-on special offers.
One such package deal from the UK is to this year's Iceland music festival, Iceland Airwaves, which includes flights from London Heathrow, Manchester and Glasgow and an Iceland Airwaves festival pass. Bjork tickets can then be added to this package deal for only £55.
Tickets are on general sale through Icelandair, www.harpa.is and www.icelandairwaves.is.
Attention:
Only general sale tickets are now only available for 31st October. However, tickets for 3rd November can still be purchased as an Icelandair add-on.