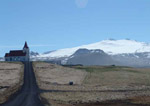 Self drive holidays in Iceland are currently the most popular way to experience all of the breathtaking sites that country has to offer, whilst giving travellers the freedom to explore the country at their own pace. With this in mind, Iceland tour provider Nordic Travel is offering self drive holidays across the popular Ring Road in Iceland.
Nordic Travel caters for trips of various lengths and interests with its main speciality being individual travel. The company can make all of the arrangements necessary for a self drive holiday including car rental, accommodation, and comprehensive route descriptions.
Many visitors travel via the popular Iceland Ring Road, Highway 1 to the Snaefellsnes peninsula where the impressive Snaefellsjokull glacier dominates the landscape, or Iceland's most famous highlights: Geysir hot spring area and Gullfoss waterfall, as well as Thingvellir National Park, the site of Iceland's ancient parliament.
Nordic Travel also specialises in arranging group tours, incentive tours and organising conferences, as well as other forms of travel in Iceland.
To learn more about self drive holidays and tours in Iceland with Nordic Travel, visit www.iceland-nordictravel.com.
Image: Paul Kornaat