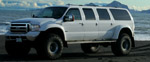 CarrrentalinIceland.com (Pure Adventures) offers a wide variety of adventures, where transportation, accommodation, activities and nature itself can give you a completely new perspective on life. Arriving in Iceland,  enter a country of purity and silence. Though there are few trees, strange landscapes formed by lava cover much of the landscape. When you take a vacation to Iceland, you'll experience what nature is all about.
When you´re looking for a really intimate travel experience, then one of Pure Adventures' customised self-drive trips could be for you. Giving you the freedom and flexibility to explore Iceland at your own pace, its packages are becoming an increasingly popular choice for travelers to Iceland. The company's itineraries take you through energetic and varied scenery to places of great natural beauty.  Witness amazing sights such as hot springs, waterfalls, boiling mud pools, towering cliffs, magnificent glaciers, beaches of black volcanic sand, hot geothermal rivers, cold glacial rivers, lava, volcanoes, and much more.
It's not so much a question of what to do, but rather how much you can see on your visit to Iceland in one of the company's cars. Its tailor-made self-drives can even amount to all-inclusive itineraries where transportation, accommodations and activities are covered in one grand adventure.
Apart from the opulent holidays that only Pure Adventures – CarrentalinIecland.com can provide, it also offers itineraries for those who need that rush of adrenaline. Its Safari Jeeps can go nearly anywhere in the highlands. Take its Safari Highland tour to get a close up view of some of the biggest unspoiled nature areas in Europe.
Be free, enjoy Iceland with Pure Adventures.
For more information adventure tours in Iceland with Pure Adventures, visit carrentalinIceland.com.