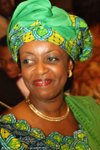 ABUJA, Nigeria (eNewsPR- Jun 28, 2011) – Diezani Alison-Madueke (Often incorrectly spelt: Diezani Allison-Madueke), Nigeria's first female Minister of Petroleum Resources, has denied all accusations that she 'skipped' the National Youth Service Corps (NYSC) programme.
Alison-Madueke states that she was granted exemption by the Nigerian Authorities when she returned to Nigeria after attending university in the United States. Alison-Madueke completed course work for a degree in Architecture from Howard University, Washington D.C., U.S. in 1987, at the age of 27; however, her Degree Certificate wasn't awarded to her until 1992.
Following this, Alison-Madueke returned to Nigerian soil, at which point she had exceeded the official age limit for NYSC. According to Nigerian law; new graduates under the age of 30 are required to sign up for a year of compulsory national service. As a result, the Nigerian Authorities granted Diezani Alison-Madueke exemption from NYSC, which she still owns a physical copy of the document.
In addition to the documentation proving her exemption, Alison-Madueke also passed all background checks twice by the Nigerian State Security Services (SSS) before being appointed as Minister of Transportation in July 2007 and Minister of Petroleum Resources in April 2010 – if she would have committed any offence against federal law or illegal activity, Nigerian authorities would have stopped all proceedings and action would have been taken.
Additional information about Diezani Alison-Madueke:
Diezani Alison-Madueke was born on 6th December, 1960, in Port-Harcourt, Rivers State, to the family of His Royal Majesty, late Frederick Abiye and Chief Mrs Beatrice Agama from Yenaka, Yenagoa Local Government Area, of Bayelsa State.
Alison-Madueke completed her early education in Nigeria and the United Kingdom before proceeding to study Architecture in the United States. She completed her 5-year professional Architectural degree at Howard University, Washington D.C.
She is married with children to Rear Admiral Alison-Madueke (rtd), a former Governor of old Anambra and Imo States and a former Chief of Naval Staff of the Federal Republic of Nigeria.
For further information:
Malachy Agbo
Senior Special Adviser, Media
eNewsPR Nigeria
+2348023201395
news@enewspr.com