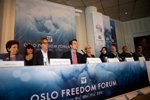 The Human Rights Foundation (HRF) recently released the first set of talks from the 2011 Oslo Freedom Forum held between May 9th and 11th in Oslo, Norway. The presentations and panel discussions are now available for viewing on the Oslo Freedom Forum website and via YouTube.
The full program will be soon to follow with talks and panel discussions from Mona Eltahawy, Shirin Ebadi, Alejandro Toledo, Zoya Phan, Leymah Gbowee, Barbara Demick, James Fallon and Belisario Betancur. Updates and announcements will be shared on Twitter and Facebook.
Oslo Freedom Forum presentations and discussions currently available include:
A panel discussion exploring the 'Dawn of a New Arab World,' featuring voices from Libya, Tunisia, Sudan, and Bahrain, and moderated by BBC correspondent Philippa Thomas, with a special introduction by Egyptian internet activist Wael Ghonim.
Ghanaian economist George Ayittey on 'Defeating Dictators'
Nobel Prize Laureate Jody Williams on 'Why Peace is About Action, Not Kumbaya'
Palestinian doctor Izzeldin Abuelaish on 'How to Transcend Hate'
The Oslo Freedom Forum brings together some of the world's remarkable individuals from academia, advocacy, business, media, politics, social entrepreneurship, and technology to collaborate on how best to make an impact on the world around them. The Forum draws attention to issues that matter, inspires action, and sheds light on the extraordinary work of innovators across the globe.
About The Oslo Freedom Forum
The Oslo Freedom Forum was founded in 2009 as a means to bring humanitarian issues to the top of the global agenda. The three-day, annual forum highlights the stories of human rights advocates from around the world through engaging presentation in order to raise awareness, bring focus to closed societies, prompt inspired discussion, and empower the international community to affect change. For more information, follow us on Twitter @OsloFreedomFrm and become a fan on Facebook.
Contact:
Thor Halvorssen
Human Rights Foundation,
(212) 246.8486
info@thehrf.org
For Media Inquiries Please Contact:
Evins Communications
Martha Pulido, Group Manager
Direct: (212) 377-3581 / Martha.Pulido@Evins.com