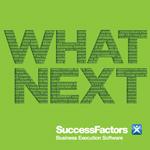 SuccessFactors, the leading provider of cloud-based Business Execution (BizX) software solutions, and Accenture recently commissioned a report into performance management which highlights characteristics of the Next Economy, and the link between strategic alignment and staff productivity.
The report, 'The Link Between Strategic Alignment and Staff Productivity', shows that many companies are not effectively executing against strategy, with 80 percent recognising that they are not doing their best to communicate strategy through their organisation. The report then goes on to identify three critical areas for determining failure or success – Alignment & Collaboration, Performance & Productivity and Growth & Talent.
"Achieving business success in the new economy is more than simply being on the right course or redefining a new strategy. These are merely minimum requirements," explained Erik Berggren, Vice President of Customer Results and Global Research at SuccessFactors.
According to SuccessFactors, business leaders need to carefully assess their own organisation's status in relation to the study's findings, whilst at the same time considering what the Next Economy looks like. Business leaders who recognise potential organisational shortcomings will emerge as the winners in the Next Economy.
"Specifically, what matters most are the people who will execute the strategy – many of whom CEOs and senior management will never meet. It is essential for business leaders to align their team's work with the overall business strategy and it is clear that most don't know how to do this effectively. At SuccessFactors we work with customers to deal with this every day and through our Business Execution (BizX) solutions we are helping companies reverse this trend," added Berggren.
To read the report in full and to obtain the accompanying SuccessFactors and Accenture white paper, 'Winners & Losers in The New Economy', visit http://www.successfactors.co.uk/accenture.
Finally, for up-to-date information regarding business execution software, follow SuccessFactors on Facebook and Twitter, or visit www.successfactors.com.