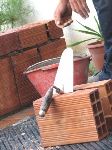 According to research carried out by B&Q and Screwfix, two of the UK's largest home improvement retailers, a third of UK homeowners struggle to find local tradesmen and seventy percent worry about getting ripped off by rogue tradesmen. In addition, forty-eight percent of UK homeowners are worried about being overcharged.
In response, B&Q and Screwfix launched JobSorted.com – a dedicated online tradesmen directory where homeowners can find local, trustworthy tradesmen in their area. The site displays over 200,000 tradesmen and offers live feedback from homeowners where a rating will be given as to how well the job was carried out.
JobSorted.com also offers an advanced search by region and trade type, making it simple to find a tradesman. Furthermore, there is an emergency callout button for work that needs to be attended to immediately.
Another useful feature is the registered tradesman logo as JobSorted.com works with leading Government approved industry bodies who keep up to date registers of tradesmen qualified to carry out work to the latest standards set out under Building Regulations – ensuring even more peace of mind for homeowners.
John Mewett, Marketing Director at JobSorted commented, "Jobsorted.com is the trusted and simple way for Brits to find a tradesman who is recommended by other homeowners. And as the survey results show, it's something that homeowners have been crying out for. The new site offers recommendations from other homeowners, meaning that the nation can be safe in the knowledge that their home is in good hands. Even finding specialist trades such as blacksmiths, roof thatchers or steeplejackers are now just a click away."
For further information about the online tradesmen directory and to find a local tradesperson, visit www.JobSorted.com.