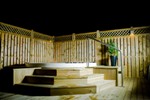 The Asbru Health Village in Iceland has recently seen an influx of visitors from Norway and the Faroe Islands who come to the country to enjoy health treatment at the Icelandic Health Hotel. The main focus of the health hotel thus far has been on Norwegian and Faroese people, however, the health hotel is looking to branch out and attract people from all over Europe.
The Iceland health hotel offers two week treatments where guests relax and receive guidelines on how to abolish bad habits and start a new life. The hotel is known for its excellent detox treatment which in turn keeps guests coming back.
Asbru Health Village's Executive Director, Ragnar Saer Ragnarsson, explained "The new strategy is based on current customers recommending the hotel to their friends. Hotel guests are encouraging their friends to come to the place where they themselves are renewing their energy and improving appearances. In addition, the staff at the health hotel has created peaceful and pleasurable surroundings, which make the guests feel welcome."
The health hotel is just one of several innovative companies in the Asbru Health Village. The Keilir School of Health has had great success with its personal trainer courses and the Alkemistinn organic skin care product range, produced on site, is steadily gaining popularity in Iceland.
Additional information about the Iceland health hotel and the Asbru Health Village can be found at http://www.asbru.is/English.