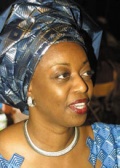 ABUJA, NIGERIA — (eNewsWire – June 10th, 2011) – According to the Nigerian business and political news channel, THISDAY, Nigeria's former Minister of Petroleum Resources, Mrs. Diezani Alison-Madueke has denied reports that an illegal sale of three oil blocks to the Nigerian Petroleum Development Company (NPDC), the oil exploration and production arm of the Nigerian National Petroleum Corporation (NNPC) took place.
It was reported that the facts regarding oil mining licences, OMLs 4, 38, 41 being improperly and illegally assigned to international oil and gas company, Seven Energy International Limited, through its Nigerian subsidiary Septa Energy Nigeria Limited were jumbled up and that "no sale of oil blocks took place at all".
On the subject of the origin of the transactions, Alison-Madueke said Shell Petroleum Development Company (SPDC) had decided to transfer ownership and operatorship of the three oil blocks to a consortium of two Nigerian companies and their international partner. This resulted a joint venture between NNPC (55 percent); Royal Dutch Shell (30 percent); Total Exploration & Production Nigeria Limited (10 percent); and Nigeria Agip Oil Company (5 percent).
The agreement signed by Shell with the buying companies covered its 30 percent interest in OMLs 4, 38 and 41, covering approximately 2,650 square kilometres in the north-western Niger Delta.
However, it was stated that Shell did not have the right to transfer operatorship to the companies.
"By the law, once you divest of a block, as a multinational, the operatorship automatically reverts to the government through NNPC and it is the prerogative of the NNPC to now assign that operatorship as it deems fit on behalf of the Federal Government of Nigeria," clarified Alison-Madueke.
As claims came in that the three oil blocks were not sold through open bid, she said there is a difference between selling and assigning a block.
In an interview with THISDAY Board of Editors, she explained: "If we were selling the blocks, of course there would have been an open bid. But these blocks were NNPC assets whose operatorship was only being transferred from Shell, the JV operator, to NPDC, which is a subsidiary of the NNPC.  You don't bid when you are assigning. First of all, it is owned by NNPC; it is the 55 percent that is already owned by NNPC going by the law. NNPC and the government can decide to sell it in the open market or assign it, for the right reasons. So when you are assigning it, it is simply a matter of convening. Of course there are various things to sign, it is under the minister's prerogative to do that, and that is exactly what we did."
She said what transpired between NPDC and Seven Energy after the assigning of the oil blocks was "merely a transactional agreement, and it was a funding agreement… there was nothing else in that transaction at all. The assets are intact and they still belong to Nigeria".
Contact
Malachy Agbo
Senior Special Assistant, Media
eNewsPR Nigeria
Tel: +2348023201395
DM: @diezanimadueke
Tweets by diezanimadueke