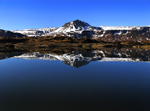 Unique wedding ideas for this summer are being offered by leading country hotel in Iceland, Hotel Budir.  The hotel offers to help organise and host tailor-made weddings in its incredible wedding venue located on the Snaefellsnes peninsula in west Iceland.
What makes Hotel budir unique is its breathtaking location – the lucky couple have the chance to spend their special day overlooking the breathtaking Snaefellsjokull glacier and the Budir-estuary, which meanders into the vast Faxafloi-Bay.
Hotel Budir can tailor the ceremony, reception and banquet from the decorations and furniture to the catering, and also help organise a wedding photographer, a beautician and hairdresser.
Previously, the hotel has held numerous wedding ceremonies and receptions, some even being conducted in the small church near the hotel and the golden sand beach close by.
Furthermore, the hotel's restaurant is renowned for its fish dishes, original starters and desserts, where it is now known as "The Mecca of Icelandic cooking". Its resident Chef, Petur Thordarson boasts the use local ingredients whenever possible along with culinary details – arguably Hotel Budir has one of the most romantic restaurants in Iceland.
To learn more about unique summer wedding ideas at Hotel Budir, visit www.hotelbudir.is.