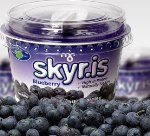 CBS News' The Early Show recently revealed that Icelandic yogurt, otherwise known as Skyr, has been labelled as a "superfood". Superfoods can apparantly help people stay healthy, fight disease and even live longer.
Cynthia Cass, dietitian and author of Cinch: Conquer Cravings, Chop Pounds, and Lose Inches, explained on the show that, "This is the new Greek yogurt. It's Icelandic yogurt, which is strained in a way that makes it even thicker and higher in protein than Greek yogurt. One six ounce serving packs 17 grams of protein, compared to about 15 in Greek yogurt and about eight in traditional yogurt."
"You can add herbs, honey and cinnamon as a dip for fruit. The strains make it thicker. You get a creamier texture. More protein without the fat. … If you put a spoon in this and turn it upside down it probably wouldn't come out. That's how thick it is. You can use it in smoothies. You can eat it as-is. It comes with fruit flavors and you can eat it plain, as well," added Cass.
CEO of MS Iceland Dairies (Mjolkursamsalan), Einar Sigurdsson, explained, "We have been exporting Skyr to the U.S. for over six years now, and we expect that this review will do nothing but strengthen the brand and increase sales. This recent coverage is great exposure."
MS Iceland Dairies is currently working on increasing Skyr distribution in the U.S., while the product continues to sell in Norway, Denmark and Finland. MS aims to eventually export Skyr worldwide.
More details about Skyr can be found at www.skyr.is.