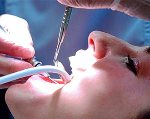 James Hull Associates' dental practice in London, Oral Hygiene Centre is run by an experienced team of dentists who provide high quality dental procedures for the City of London area.
The London dentists working at the practice provide a number of services including white fillings, crowns, bridges, dentures, implants, oral surgery, and gum health.
The London dental practice also provides an Oral Hygienist, cosmetic dentistry procedures including veneers, a 24 hour emergency service, X-Ray and Radiographic Services (Devonshire Imaging), X-Ray Duplicating Services, and 0% Finance available subject to status.
The Oral Hygiene Centre endeavours to provide high quality dental care and first class service in its state-of-the-art practice, supported by an efficient, highly focused and friendly dental team. The staff is always keen to give new and existing customers a warm and friendly welcome.
To find a local dentist or for more information about the London dentist, visit www.jameshull.co.uk or for booking appointments, see the contact details below:
Oral Hygiene Centre
1 Devonshire Place
London
W1G 6HH
Tel: 0203 4322 452
Fax: 0207 4860 070
Opening hours:
Monday 0900-1800
Tuesday 0900-1800
Wednesday 0900-1800
Thursday 0900-1800
Friday 0900-1800