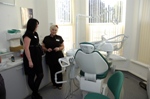 The Newell, Pindar & Vivian Dental Practice, established for 25 years and consisting of the same 3 original dentists, offers high quality dental care for the Hull area. The practice prides itself on providing a high quality service and offering patients the best dental care.
The Hull dentist practice offers dental services such as root canal, crowns, inlays, bridges, and dentures. The practice also offers refer services including a Hygienist, sedation, gum health, implants, Invisalign®, oral surgery, surgical dentistry, and restorative dentistry.
Additionally, the Hull dentists provide facial aesthetic treatments including Botox and Juverdem ultra and cosmetic procedures including veneers and teeth whitening, as well as a wide range of bespoke cosmetic treatments. The practice can also provide patient schemes and finance including 0% subject to status.
The Hull dental practice offers a comprehensive range of high quality private treatment in a relaxed, friendly environment. The primary aim of the Newell, Pindar & Vivian Dental Practice is to encourage preventative techniques by helping patients understand how to maintain the health of their mouth and keep it free of tooth decay and gum disease.
Additional information about the Hull dentist can be found at www.jameshull.co.uk.
Furthermore, to book an appointment at Newell, Pindar & Vivian Dental Practice, see below:
Newell, Pindar & Vivian Dental Practice
590, Holderness Road,
Hull
HU9 3EU
Tel: 01482 772529
Fax: 01482 588530
Opening hours:
Monday 0800-1800
Tuesday 0800-1800
Wednesday 0800-1700
Thursday 0900-1800
Friday 0800-1730
Saturday by appointment only