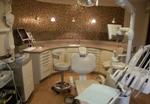 The Willie Jack Dentist Practice in Welshpool, North Wales is run by a highly skilled dentist team, offering treatments such as white fillings, crowns and bridges, as well as referral services such as implants, gum health and root canal.
The dentists in Welshpool offer a number of other specialist treatments including a oral health hygienist and cosmetic procedures such as veneers and teeth whitening.
Additionally, the Welshpool, North Wales dental practice offers patients dental finance including 0% subject to status and Denplan Essential payment schemes.
Furthermore, The staff at the Willie Jack Dentistry practice endeavours to provide high quality dental care and a first class service in the state-of-the-art practice, supported by an efficient, highly focused and friendly dental team.
To find a local dentist and to learn more about the Welshpool practice, visit www.jameshull.co.uk.
For direct enquiries and booking appointments at the Willie Jack Dentist Practice, see contact details below:
The Courtyard,
Glansevern
Berriew
Welshpool
Powys
SY21 8AH
Tel: 01686 468088
Fax: 01686 640999
Opening hours:
Monday 0800-1830
Tuesday 0800-1830
Wednesday 0800-1830
Thursday 0900-1700
Friday 0900-1700