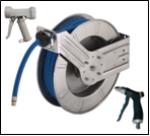 Europe's leading manufacturer of stainless steel products, furniture and equipment, Teknomek can offer a comprehensive range of washdown equipment and janitorial products.
Teknomek's industrial washdown equipment range includes manual, spring driven, mobile & food quality hoses, and wide variety of spray guns, as well as apron washers, broom handles, brooms, brushes, deck scrubs, hand brushes, hose and hose reels, mops, spray guns, and squeegees.
To complement the collection, Teknomek also markets a full range of hygiene equipment. This includes boot washers, cupboards, dispensers, drinking fountains, eye-wash, hand driers, insect control, nail brush sanitiser, safety shower, shower tray, sinks, sterilisers, taps & faucets, wash troughs, waste bins, and WC/urinals.
For customers who require a bespoke solution, Teknomek offers a hygienic room design service that helps customers make the best use of the available space at minimal costs. This is achieved via a dedicated 3D design department which allows the design team to work with customers from the initial design concept, through to the manufacturing process. This approach removes the possibility of project delays and last minute costs due to modifications to get the units to fit the space.
Furthermore, as Europe's leading manufacturer of catering stainless steel furniture and equipment, Teknomek provides high quality and cost-effective stainless steel solutions to industry hygiene requirements for all sectors such as pharmaceutical, catering and veterinary.
To see the full range of hygiene equipment and janitorial supplies, or to request a catalogue, visit www.teknomek.co.uk or call +44 (0)1603 788833.