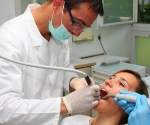 To find a dentist in North UK – Cottingham, Harrogate, Hull, Knaresborough, York and Yorkshire; West and South – James Hull Associates' website displays its seven practices located across the North. The dental practices offer professional services such as root canal, crowns, inlays, bridges, dentures, oral surgery, hygienist treatments and orthodontic treatments.
The North UK dentists offer referral services such as implants, Invisalign®, restorative dentistry and facial aesthetics, as well as cosmetic dentistry procedures including veneers and teeth whitening. In addition, most of the dentists offer dental finance schemes including Denplan Essentials and 0% finance, subject to status.
The North UK dental practices include: The Raglan Suite Dental Care Services, Harrogate; Carlton House Dental Care Services, Knaresborough; Ilkley (U Dentistry) Dental Care Services, West Yorkshire; St Saviourgate Dental Practice – York Dental Implant Centre, York; Rotherham Dental Care Services, South Yorkshire; Cottingham Dental Care Services, Cottingham, and Newell, Pindar & Vivian Dental Care Services, Hull.
James Hull Associates' dedicated teams have both the passion and professional expertise to offer outstanding clinical excellence for a range of treatments. The company provides over seventy-five practices across the UK, all of which offer high quality, innovative dental treatment to thousands of patients.
To find a dentist in North UK – Cottingham, Harrogate, Hull, Knaresborough, York and Yorkshire; West and South, visit www.jameshull.co.uk