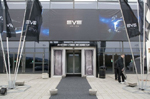 Icelandair, Iceland's leading airline, has announced an exclusive EVE Online Fanfest 2011 package deal for fans of the popular online gaming community, EVE Online.
Now in its seventh event, the EVE Online Fanfest is the place to be for first hand announcements, presentations, meet and greets, Q&As, and insights into what lies ahead for EVE Online. The 2011 event will be held at the Laugardalsholl Convention Center in Reykjavik, Iceland.
The line-up for this year's three day festival includes exclusive EVE presentations, PVP tournament, roundtables and discussions, DUST 514 presentations and insights, pub-crawls, live missions, and the fan favourite, 'Party at the Top of the World.'
The exclusive EVE Online Fanfest 2011 package deal with Icelandair includes flights to Reykjavik, Fanfest tickets and selected accommodation at an additional cost.
With over 2500 fans attending in 2009, this year's EVE Online Fanfest is set to be even bigger.
For more information on the EVE Online Fanfest package deal with Icelandair, visit http://www.icelandair.co.uk/offers-and-bookings/book-packages/package/item199857/Eve_Online_Fanfest/