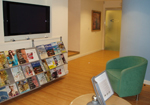 A dentist at St Ann's Dental Practice Manchester is specialising in dental implants for both cosmetic and medical purposes. The Manchester dentist practice also prides itself in dental services such as white filling, crowns, bridges, dentures, teeth whitening, full mouth detox services, full mouth reconstruction, restorative dentistry and root canal treatments.
Resident dentist, Dr. Brookshaw has been fitting dental implants at the St Ann's Dental Clinic in central Manchester for over 6 years. His treatments are known to improve a patient's quality of life dramatically, stating that his patients can enjoy the simple things in life after treatment, such as eating without the worry of their dentures moving, and without fiddly cleaning routines.
"Implants have become a routine procedure at St Ann's Dental Clinic and, although it's usual to spread a treatment plan over two or more visits, we have some patients who complete their treatment in a single day. St Ann's was also one of the first centres to offer computer guided keyhole surgery of the fitting of implants, which is less invasive and can reduce the healing time," commented Dr. Brookshaw.
St. Ann's dental practice Manchester prides itself on offering patients a comfortable and anxiety-free visit. Its patient lounge has been designed to ensure a relaxing and calming atmosphere, with an up to date selection of magazines, a plasma television, range of drinks and fruits available.
Furthermore, the dentist in Manchester offers a CT scanning service, DPAS pay monthly maintenance scheme, employee scheme for local businesses and a Medenta Finance payment plan, subject to status.
For more information on dental implants and the Manchester dental practice, visit www.jameshull.co.uk. For additional enquiries, see the contact details below:
St Ann's Dental Practice
14 St. Ann's Square
Manchester
M2 7HQ
Telephone:
0161 834 2627
Fax:
01618 397362
Opening hours:
Monday 0900-2000
Tuesday – Thursday 0830-1730
Friday 0800-1300