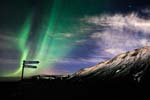 Icelandair, Iceland's leading airline, is offering UK travellers the incredible Northern Lights package deal, Northern Lights City Break in time for Valentine's Day.
The Northern Lights City Break combines city exploration in Reykjavik with one of nature's most incredible spectacles, the Northern Lights. Included within the deal are three nights accommodation in a top hotel; the Northern Lights tour; and flights to and from London Heathrow, Manchester or Glasgow. This allows for couples to relax at the geothermal Blue Lagoon or enjoy one of Iceland's many exciting activities, as well as spa treatments and romantic meals.
Operated by Reykjavik Excursions, the Northern Lights tour takes place the evening following the day of arrival. Passengers are picked up at their hotel and driven to an area outside of Reykjavik to search for the natural phenomenon. Every tour is different since the leader takes the group to the area where they are most likely to see the lights that day based on weather. The tour generally lasts three to five hours and makes for an exciting evening out exploring the rugged Icelandic wilderness with a loved one.
Sunspots on the sun's surface are the main cause for the appearance of the Northern Lights. The strength of the Aurora is relevant to the amount of occurring sunspots as well as clear visibility; these sunspots follow an 11-year cycle that is set to peak between 2011 and 2012. Scientists agree that the conditions for viewing the Northern Lights in 2010 are particularly superb – making this year the best time to visit Iceland.
The Northern Lights City Break must be booked online by 31st January and travel is good until mid-April 2011 – prices start from £269.
To find out more about the Northern Lights City Break in more detail, visit http://www.icelandair.co.uk