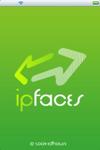 The unique iPFaces framework simplifying the creation of native, form-oriented network applications for mobile devices has recently come out with Branded Client Mobile Application. From now on you will be able to supply your own, customized client application to your customers.
With the start of the New Year and numbers of resolutions made, ours is already out: easy branded client application where Edhouse, the iPFaces creator and developer of software technologies, can prepare your native iPFaces client application with your application name, logo, splash screen and graphics, bound with your server solution. iPFaces technology is hidden behind the hood while the branded client application looks like your own native mobile application.
iPFaces mobile application is ready to be downloaded now! iPFaces solution consists of two parts: client application and server packages. A step by step guide to get your branded application is available at iPFaces website.
Your new mobile application is supported by all mobile platforms and for iPhone, iPad and iPod is freely available via Apple's AppStore, and also distributed as freeware for Blackberry. Server packages for PHP, ASP.net and Java are distributed as an open source under BSD licence.
Besides that, the entire solution ensures easy distribution of the client application to its end users. To top it all, Edhouse provides hot-line support 24/7, assistance with the product release as well as on-site training and consulting.
To get your branded mobile application with a special New Year's discount, visit the website www.ipfaces.org.