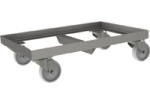 In response to numerous customer requests, Europe's leading stainless steel manufacturer, Teknomek has introduced a square dolly truck to its comprehensive range of handling equipment.
The stainless steel dolly truck is designed to facilitate easy movement of material around production areas for use with standard 600 x 400mm trays and boxes. The square dolly design is manufactured from 304 quality stainless steel and fitted with polypropylene castors for sturdy and reliable handling.
The stainless steel manufacturer's material handling equipment range also includes aluminium pallets, euro tubs, gravity roller track, instrument and mayo tables, lifters, medical baskets, medical trolleys, mobile bowel stands, platform trucks, safety steps, basket trolleys and much more.
As with all Teknomek manufactured products, customised sizes and configurations can be easily created at low cost though our advanced 3D design system and advanced manufacturing techniques.
Teknomek has a dedicated 3D design department which allows the design team to work with customers from the initial design concept and through to the manufacturing process. Teknomek can provide a quote within one working day and supply the product within fourteen working days from the approval of a design.
Teknomek is Europe's leading manufacturer of stainless steel furniture and equipment. The company provides high quality and cost-effective stainless steel solutions to industry hygiene requirements for all sectors such as pharmaceutical, catering and veterinary.
For further information about stainless steel handling equipment, visit www.teknomek.co.uk or for additional enquiries, see contact details below:
Tel: +44 (0)1603 788833
Email: mail@teknomek.co.uk