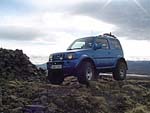 To celebrate the New Year, Iceland Car Rental is offering cheap prices on 4×4 car hire; starting from only 65 Euros per day. All vehicles with Iceland Car Rental are all easy to drive and come fully equipped with a Garmin Navigation System, child seat, cushion and roof box on request.
Furthermore for 2011, Iceland Car Rental has updated its website to further its outstanding customer services; now included are customer quotes to insure the company's satisfactory. For example Jodie from the U.S. quoted as saying, "I meant to leave a note with the car we rented this last week so say thanks for the great service. The car, phone, and GPS all worked excellently. I appreciate the fantastic assistance and service from your company."
Vehicles at Iceland Car Rental can be delivered directly to your accommodation in Reykjavik's surrounding area, as well as collected at Keflavik International Airport or the BSI coach station.
The Iceland Car Rental website is a 'one-stop-shop' holding cars ranging from city drive saloons to four-wheel drive cars able to withstand the toughest terrain across the country.
For information on cheap 4×4 car rental in Iceland, visit www.icelandcarrental.is