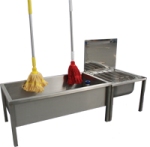 Teknomek, Europe's leading manufacturer of stainless steel furniture and equipment, has introduced a new mop draining trough to its comprehensive range of washroom products.
Manufactured from 304 quality stainless steel, the product has been designed after consultation with customers in order to achieve the most efficient end product. Measuring W1460 x D430 x H400mm (with adjustable feet), the bucket section features a wall-mounted backsplash and a hinged grid to maximise cleaning efficiency and hygiene.
Other products included in Teknomek's washroom equipment range are soap dispensers, drinking fountains, hand driers, sinks, WC/urinals, taps & faucets, lockers, hygiene equipment, nail brush sanitiser, surgeons scrub sinks, vet scrub sinks, valves, wash troughs and safety mirrors.
The stainless steel manufacturer also offers custom versions of all of its products, for example, each piece of equipment can be made to specific dimensions on request. Teknomek can provide a quote within one working day and supply the product within fourteen working days from the approval of a design.
Teknomek is Europe's leading manufacturer of catering stainless steel furniture and equipment, providing high quality and cost-effective stainless steel solutions to industry hygiene requirements for all sectors such as pharmaceutical, catering and veterinary.
For more information on Teknomek's washroom cleaning supplies and equipment, visit www.teknomek.co.uk or see contact details below:
Tel: +44 (0)1603 788833
Email: mail@teknomek.co.uk