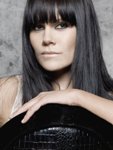 The Icelandic brand, Gydja Collection, owned by fashion designer Sigrun Lilja, launched its first perfume over the weekend. The launch ceremony of 'EFJ Eyjafjallajokull by Gydja' took place at Debenhams in Iceland last Saturday.
The 'EFJ Eyjafjallajokull by Gydja' perfume has received a lot of media attention, both domestically and internationally, due to the unique nature of its source; the perfume is made with water extracted from the Eyjafjallajokull glacier.
"Foreign media somehow picked up on the EFJ perfume, most likely through Icelandic media news stories, and consequently we have received a lot of positive attention abroad as well. Last week I took an interview with the BBC and I recently took an interview with The Times newspaper as well as many others," commented Sigrun Lilja.
In addition to last weekend's launch and the positive media attention, Sigrun Lilja also announced that a percentage of the perfume's sales revenue will go to an incentive fund, established by Gydja Collection, for women in ICE-SAR, the Icelandic search and rescue team.
Sigrun Lilja explained, "We had a special interest in supporting ICE-SAR because of the tremendous work they did during and following the Eyjafjallajokull volcanic eruption last spring. The fund is intended to help support women in the rescue team, raise awareness of women's participation in the team and therefore encourage other women to join ICE-SAR."
The Gydja Collection perfume is now available in stores across Iceland including Hagkaup, Debenhams, Keflavik Airport duty free and various fashion outlets in downtown Reykjavik.
Additional information about the EFJ perfume and Gydja Collection can be found at www.gydja.is