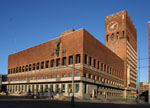 According to Scandinavian media channel, IceNews, a conference focusing on discussing the social responsibility in business and ethical trading, is to be held on 18th October 2010 at the Oslo City Hall, Norway.
The upcoming Oslo Summit will highlight the link between peace, trade and social responsibility in business through various presentations, plus a panel debate. The event will conclude with the formal presentation of the Oslo Business for Peace Award to the seven honourees.
This year, Israeli businessperson, Stef Wertheimer will be among the seven honourees to receive the Oslo Business for Peace Award; this will also be the first time that an Israeli businessperson has received the award.
The award, sponsored by the International Chamber of Commerce and the Business for Peace Foundation, is to honour the seven business figures for their contributions towards the advancement of ethical business practice and social responsibilities.
Other honourees will include, Francis Yeoh, the managing director of the YTL Corporation Berhad, Venkataramani Srivathshan, the Managing Director of Olam Nigera, Ratan Tata, the present Chairman of the Tata group, Emily Cummins, a product designer and developer, William Rosenzweig, the Managing Director of Physic Ventures and Robert Sendra, Chairman of the Board of Grupo Bimbo.
The Oslo summit is a part of the Oslo Innovation Week, taking place between 18th–22nd October 2010.
IceNews is an online Icelandic and Scandinavian news channel reporting in English; the original article can be found here.
To discover more about social responsibility in business and the Oslo Business for Peace Award visit, www.businessforpeace.no/