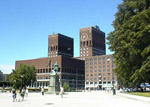 The upcoming five-day innovation and business event, Oslo Innovation Week, is to feature the Oslo Summit peace conference on Monday 18 October 2010 at the Oslo City Hall, Norway. The summit, organised by the Business Foundation for Peace, aims to discuss how ethical values and ethical trading are becoming critical success factors for organisations at all levels and in all parts of the world.
Global and Norwegian investors, entrepreneurs, scientists and business leaders will be gathering together in Oslo between the 18 – 22 October 2010 to set the agenda for innovation and creativity. The Oslo Innovation Week consists of many events dealing with the innovation and politics of trade and business, capital and founding growth-projects, innovation that stems from research, and youngsters and entrepreneurship. The aim is to build a bridge between entrepreneurs, investors and environments of competence to promote creativity and growth.
The Oslo Summit peace conference will focus on the relationship between peace and trade through various presentations, as well as a panel debate. The event will conclude with the formal presentation of the Oslo Business for Peace Award to the seven honourees selected by the Oslo Summit award committee.
The seven honourees for the Oslo Business for Peace Award include, William Rosenzweig, the Managing Director of Physic Ventures and Robert Sendra, Chairman of the Board of Grupo Bimbo, Francis Yeoh, the managing director of the YTL Corporation Berhad, Ratan Tata, the present Chairman of the Tata group, Stef Wertheimer, the Founder and Honorary Chairman of Iscar Metalworking Company, Emily Cummins, a product designer and developer, Venkataramani Srivathshan, the Managing Director of Olam Nigera.
To find more information regarding the business innovation event, Oslo Innovation Week, the Oslo Summit peace conference and the Oslo Business for Peace Award visit, http://www.businessforpeace.no/