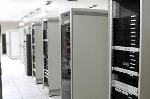 The UK data center market will lead in capacity over the next five years, with space more than double France or Germany by 2014. The UK has the greatest breadth of offerings with more than 150 data center providers. Increasing data center demand and investment across western European markets, and the factors that restrict this growth form the background to a new report from BroadGroup – the third bi-annual European Data Centre Market.
The report covered 17 European markets (excluding internal usage and outsourcing services), and revealed significant growth would occur in the UK data center market over the next five years with an overall increase of 74 percent in space; the largest in Europe. Wholesale data centers in the UK were expected to occupy the lead market share by space representing 62 percent by 2014. The UK and German markets are tied in terms of country importance, which in both cases represents around 20 percent penetration.
Revenue growth is at a higher rate of around 17 percent reflecting some upselling and price increases in the market. The report suggests that cloud computing, rather than being a threat to third party data centers will create additional demand. A further dimension to the capacity for growth is that around 85 percent of Western European data center usage continues to remain in-house although it will only slowly decline over the next few years reflecting a shift to third party outsourcing.
The report reveals that other more fundamental shifts are occurring in the data center market as providers pursue new market segments, adapt new business models, and enter multiple markets. The trend is transformative as new segments emerge such as 'wholesale lite' (a hybrid between a large co-location and small wholesale deal).
Against this background, the report analyses the lead market players, and in particular the potential threats they could confront. Data centers in Europe as in other regions, have also assumed an international importance as large enterprises seek locations for new facilities to support the globalization of their businesses.
"This report reveals that there are continued opportunities for strong players in the data center market in Europe, but it varies widely by country and competitor," commented Steve Wallage, managing director of BroadGroup Consulting and the report author. "Demand remains strong and pricing will continue to rise, but there are concerns around environmental legislation and how that will impact costs."
For the future, the data center report provides a broader picture of whether future demand will be in-house or outsourced, and in particular whether third party data centers have the skills and economies of scale to manage environmental factors much more successfully. Forecasts for space by data center market segment (Carrier owned, Wholesale, Managed Services and Colocation) are provided through to 2014.
For more information about the European Data Centre Market report, visit www.datacentres.com