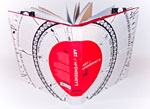 A book, entitled the Art of McSweeney's, has recently been released showcasing the award winning artwork and book design from the American publishing house, McSweeney's. The book, released by the U.S. publishing company Chronicle Books, is to celebrate "the 11th or 12th anniversary" of McSweeney's.
Within the book, the Founder and Editor of McSweeney's, Dave Eggers, explains how coincidence led him to Oddi Printing, a printing company based in Reykjavik, Iceland, "who often played an important role in design decisions based on materials and processes in printing and binding."
"Oddi Printing is particularly proud to have been a part of McSweeney's history. Our collaboration with them is a good example of how it is possible to do extraordinary things with content, design and production in order to create great advantages for the reader," said Marteinn Jonasson, Head of Oddi's New York office.
The Art of McSweeney's offers designers, authors, publishers, and book enthusiasts thought provoking ideas where design and production comes together to make very interesting and unusual books.
Examples of McSweeney's printing work can be found by visiting www.oddi.com