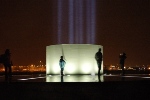 The annual lighting of Yoko Ono's Imagine Peace Tower in Iceland will be taking place next month. The tower of light is a work of art dedicated to the memory of her late husband John Lennon and as a beacon for world peace situated on Videy Island near Iceland's capital city, Reykjavik.
The Imagine Peace Tower lights up the sky above Reykjavik every year between October 9th (John Lennon's birth date) and December 8th (the date of his death). The tower is a huge beam of light projected from a white stone monument in the form of a wishing well that has the words 'Imagine Peace' carved into it in 24 different languages.
The tower of light, which usually reaches an altitude of at least 4000 meters, consists of 15 large searchlights surrounded by a number of prisms that act like mirrors, reflecting the light vertically into the sky. Buried underneath the wishing well style tower are over half a million written wishes that people from all around the world have sent to Yoko Ono over the years as part of another art project entitled 'Wish Trees'.
To learn why Yoko Ono chose Iceland to host the Imagine Peace Tower, visit www.inspiredbyiceland.com