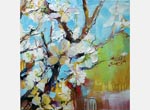 Iryna Yermolova's educational background encompasses two absolutely diametrically opposed educational strands, one in graphic-design and the other as an economist. Even if the artist dealt a lot with art over a prolonged period of time, it was really only computer-based graphic design work. Painting entered her life when she moved to England and the artist feels that in many ways this shift was crucial in changing her artistic outlook as well as elements within her own person, which paved the way for her journey as a full time painter.
Yermolova is hugely stirred by the beauty of the English countryside, yet she equally draws a lot of inspiration for her paintings from her Russian roots, childhood in the Ukraine as well as Orthodox religion. The power and sadness of Russian icons has always deeply touches the artist. Experimenting with colours, textures and different materials all brings her enormous pleasure and inspiration.
For the artist 'The Journey' not only is the name of one of her paintings and the title of this exhibition, but signifies on a much deeper level her journey as an artist, a person, a mother and as a woman.
Dorset Life Magazine July 2007: "Style, energy and direction of Iryna's paintings sets apart from other local Art, but getting inspiration, yet she found a new creativity with her move to England, born of a connection between two different great cultures."
Iryna Yermolova is a Ukrainian born artist who lives and works in the United Kingdom. You can view her works at www.irynayermolova.com
Private View: Fri 15th of Oct 6.00 pm to 11.00 pm
Exhibition runs from: Fri 15th of Oct Thursday 21st of Oct 2010
Gallery Opening Hours: Mon, Tues, Wed, Fri: 11.00 am to 6.30 pm
Location: Red Gate Gallery
209a Coldharbour Lane
London SW9 8RU Sat: 12.30pm – 5.00 pm

Last day of Exhibition: Thurs 21st of Oct: 10.00am to 5.00pm