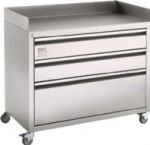 With the summer drawing to a close, the stainless steel manufacturer, Teknomek is inviting people to pack away the barbeque and indulge in some culinary delights by offering the chance to win a luxury hamper worth £150.
Why not relax and have a great end to the summer? Let those barbequed steaks that ended up looking like charcoal be a distant memory and enjoy a number of tasty treats with compliments of Teknomek. Simply visit the stainless steel company's website and click on the prize draw link, fill in the simple questionnaire and you will be entered into the luxury hamper competition.
Teknomek is Europe's leading manufacturer of catering stainless steel furniture and equipment, providing high quality and cost-effective stainless steel expertise to industry hygiene requirements for all sectors such as pharmaceutical, catering and veterinary.
In addition, Teknomek now also offers a bespoke design service to help customers maximise their available space and minimise costs. The company, along with its design expertise, is now able to provide CAD generated models of an hygienic area, so that the client can really understand how to make the best use of the available space, with Teknomek's hygiene furniture and equipment.
For further information on stainless steel furniture designs and to be entered into the prize draw, visit www.teknomek.co.uk